The Canadian Experience with RhizoVital C5
RhizoVital C5, a biostimulant based on Bacillus atrophaeus strain Abi05, was introduced in Canada in 2020.
RhizoVital C5 was trialled in winter wheat in Central Canada where it is applied as a seed treatment during the seed processing stage. Additional trials are planned for spring seeded canola in Western Canada.
Standard Seed Treatment on both plots was applied to seed consisting of Stratego pro and Miravis Ace. Note larger leaf area on emerged plants and consistent root size on the picture at the left ans vice versa smaller emerged leaf and root size less uniform with standard seed treatment only.
In replicated trials undertaken in 2021 in Saskatchewan, RhizoVital C5 clearly demonstrated an increased value to growers as a seed applied product.
RhizoVital C5 improved emergence and yield, offering return of 6 dollars for every dollars spent on the product.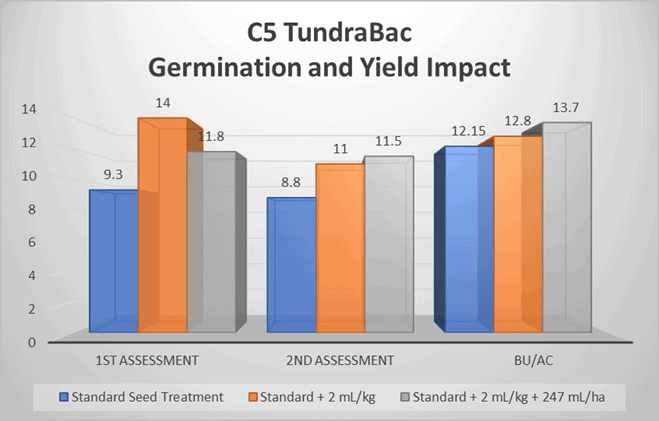 Andermatt Canada's next step is to work directly with growers to establish field trials for Proof of Performance. With this step our colleagues work closely with the growers to ensure it is in a representative soil type and scout the crop at key growth stages. A learning is to scout fields after emergence to evaluate early root development as this cannot be seen from without digging plants out carefully to retain the intact root. Missing this step can lead to the grower not able to realize the full impact of the action of a biological product on the crop. The focus in Canada will be on vegetable crops, spring cereals and canola. This crop mix places RhizoVital C5 in all geographies of the country.
More on the topic of microbial biostimulants: Learn about enhanced root and plant development provided by T-Gro Easy Flow.
Subscribe to our newsletter and follow us on Facebook for more exciting news and success stories.