Phosbac45 is a microbial biofertilizer based on Bacillus velezensis strain FZB45, which is also available on the global market under the brand Rhizovital P45. Phosbac45 is supporting high yields in cereal and vegetable crops. In 2018, Phosbac45 got the first registration as a phosphorous solubilizer in the Brazilian market.
Phosbac45 contains a specific strain of Bacillus velezensis (formerly classified as Bacillus amyloliquefaciens) with a superior quality to mobilize plant nutrients, such as phosphorous. Bacterial products such as Phosbac45 can be easily applied via seed treatment for row crops, as a furrow application for potatoes or even as a drench application for vegetable crops such as tomatoes. This offers great flexibility to use the product in many crops by different application techniques. The bacteria spores germinate in presence of root exudates and develop a protecting film around the roots, following the elongation of the roots as they grow deeper into the soil. Within this bacterial film in the rhizosphere, the bacteria of Phosbac45 produce substances such as enzymes, which solubilize and mobilize plant nutrients, such as phosphorous (P) or potassium (K).
Potatoes
In crops with high rates of P fertilization such as potato (400 kg P2O5/ha), we measured increases of plant available phosphorous (P) by 78%, and for plant available potassium (K) by 32%, when treated with Phosbac45 in comparison to the standard treatment without Phosbac45. The use of Phosbac45 is increasing the concentration of unlocked phosphorous and potassium in soil. The use of Phosbac45 offers new options for an improved nutrition management for crops such as potatoes that have high requirements of phosphorous. 

Corn
The use of Phosbac45 has been expanded to other crops for which additional benefits were identified, for example an increase in the number of seed rows on the corn ear in seed production. After using Phosbac45 at 2 ml per kg seed, we counted two additional seed rows per corn ear, even with half of the conventional P fertilization rate. This corresponds to 12.5% increase in seed kernel yield, which is a significant benefit in corn seed production. Consequently, several state-of-the-art seed companies showed great interest and are testing the Phosbac45 technology.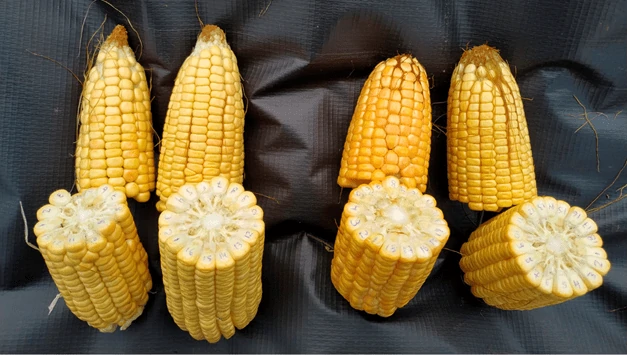 Soybean
The benefit of Phosbac45 can be further enhanced in a combination with organic carbon containing bioactivators (such as algae, humic acids and natural plant extract polymers), as observed after application on soybean seed.
The use of biofertilizers from naturally occurring soil micro-organisms that solubilize and mobilize nutrients make a significant difference to improve the sustainability of agriculture. In particular, Phosbac45 increases the efficacy of applied fertilizers. The bacterial protecting film in the rhizosphere minimizes the use of mineral fertilizers and has an overall benefit for plant vigor. Treated crops emerge faster and healthier, need less chemical pesticides or chemical seed treatments during the germination and crop emergence stages, and can rely on a natural protection of the growing roots for up to 80 days.
Acknowledgments to the grower Rodrigo Tomé, to Danilo Silva dos Santos and Fabricio Teixeira from AdB distributor Omega in Feira de Santana, Bahia, and to the AdB development team, Roberto Chichera, Ruan Kobay and Viviane Dutra