We are excited to announce some significant organizational changes within the Andermatt Group.
Felix Dubach has taken on the role of Director International Business. Felix has been an invaluable member of our team for several years as Area Manager and Head International Market Development and has consistently displayed remarkable leadership skills, exceptional market insight, and a steadfast commitment to our company's growth. We are confident that his wealth of experience and visionary approach will continue to drive our international business forward, fostering new opportunities and ensuring continued success.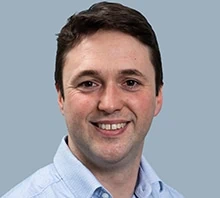 Additionally, we are pleased to welcome Patrick Meyer as the new Head of International Market Development. Patrick studied agronomy and until now, in addition to several voluntary tasks, gained experience in product and project lead innovation. In addition to leading a dynamic and motivated Area Managers and Business Developers team, Patrick himself takes responsibility for market development in fascinating areas such as West & North Africa, Middle East and others, to take on the challenges and seize the opportunities drive towards our global goal: Healthy food and healthy environment, for all.
We welcome Felix and Patrick to their new roles and wish them much success and delight.